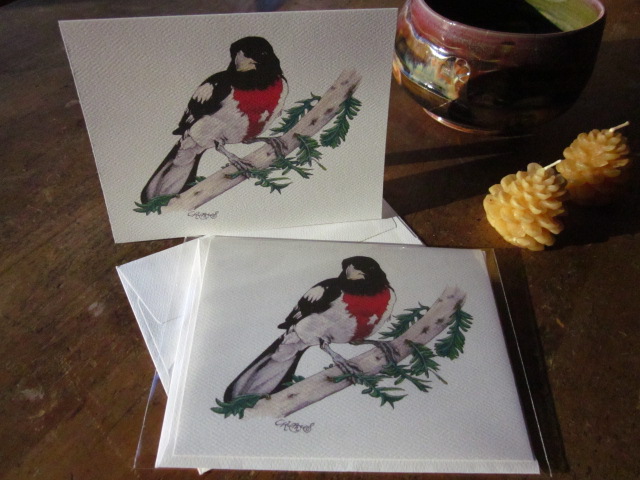 2018 Limited Edition Holiday Card: Rose-breasted Grosbeak - Back for MAS!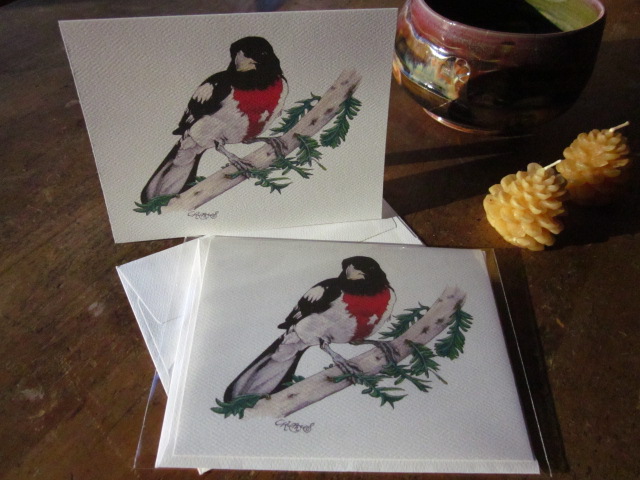 Back for a limited time for the Moretown Artisan's Sale! The original watercolor is of a Rose-breasted Grosbeak. We had a family of these guys at our bird feeder this summer.
The original drawing was done in watercolor on paper. Cards are printed in small batches on 4x6 in. lightly textured cream-colored card stock, blank inside, and come in a plastic sleeve with matching envelope. Price listed is for a single card. Contact me if interested in bulk pricing, available for orders of five cards or more!
***
Shipping
I ship all pending orders mid-day Tuesday and Friday of each week. If I have an unexpected delay greater than 5 days I will notify you by email.
Shipping costs are not included in the price of shop items, but are calculated by a plugin during checkout. I ship USPS First Class, which has an estimated delivery time of 1-3 days. If you have any concerns about your order you can contact me at This email address is being protected from spambots. You need JavaScript enabled to view it..
Refunds and Cancellations
You can cancel your order for a full refund as long as I haven't shipped it yet, so if you think you need to cancel, contact me ASAP as I try to ship orders in a timely manner. You can contact me at This email address is being protected from spambots. You need JavaScript enabled to view it.. Once your order has shipped, it's out of my hands and can't be cancelled.
Returns and Exchanges
If you are not satisfied with your order, you can mail it back to me for a refund and/or exchange for a comparable item with no questions asked, but I don't cover the cost of return mailing. If you purchase something fragile, such as a framed print, and it arrives broken, I will send a replacement of the broken piece if you contact me at This email address is being protected from spambots. You need JavaScript enabled to view it..