I work as a freelance teaching artist with a focus on integrating art and science.
My most popular workshop is in nature journaling, which I can adapt to be either indoor or outdoor and from one hour to multiple sessions with different ecological themes. I regularly teach after school programs for Radiate Art Space. I've run workshops for undergrads at Paul Smith's College, done residencies for middle school and high school with Vermont public schools, and held classes for adults and families at nonprofits like the Green Mountain Club and the Waterbury Grange. You can read more about my past experience here: Creative Ground profile
I'm on the Vermont Arts Council's Teaching Artist roster, which means I am eligible for the Artists in Schools grants.
Curricula
Below are my regular workshops, which I can adjust to context. I've taught most of these in both classroom and informal settings, and in long and short formats. My standard rate is $50/hr for groups up to 10. I charge for contact time only. My rate is negotiable and subject to change depending on the nature of the project.
I'm always up for planning a brand new workshop with you! Contact me if you have an idea or a lesson need. This email address is being protected from spambots. You need JavaScript enabled to view it.
Nature journaling
Learn how to nature journal by exploring the natural world through drawing and writing! My nature journaling workshops introduce a foundational nature journaling framework that can be tailored to any outdoor interests. We will cover drawing warm up, observational writing, and journal entry structure. I can adjust workshop length and detail to accommodate different schedules and depth of interest. Two-hour single sessions are the most common choice. I prefer to take students outside, but in the event of rain, we can work indoors with my natural history collection.
Ages: 6-100+
Art and microscopes
Curious about the invisible micro-world that surrounds us? Using my collection of hand lenses, magnifiers, and microscopes, we'll get acquainted with microscopic things from plant cells to protozoa. I have pre-made slides and can introduce simple slide-making to look at fresh and live samples. We'll spend time drawing what we see at different magnifications and depending on the length of the workshop, can move on to 3D modeling or inventing made-up microscopic things based on ideas of form and function.
Ages: 8-100+
Fun with molecules
Get familiar with the idea of molecules and molecular modeling through fun craft projects! We can make paper "stained glass" water molecules, which you can link with hydrogen bonds to hang in a window. Or build some familiar molecules and play a molecule building game using colored cotton balls.
Ages: 3-18
Make your own plant-based finger paints
Make a messy masterpiece using your own homemade paints! We'll learn a little chemistry by extracting pigments from familiar vegetables and mixing with a binder. We'll experiment with three "mystery" binders to see which works the best. We'll also introduce acids and bases using a color-changing pigment. And we'll get paint everywhere (don't forget your smock)!
Ages: 1-8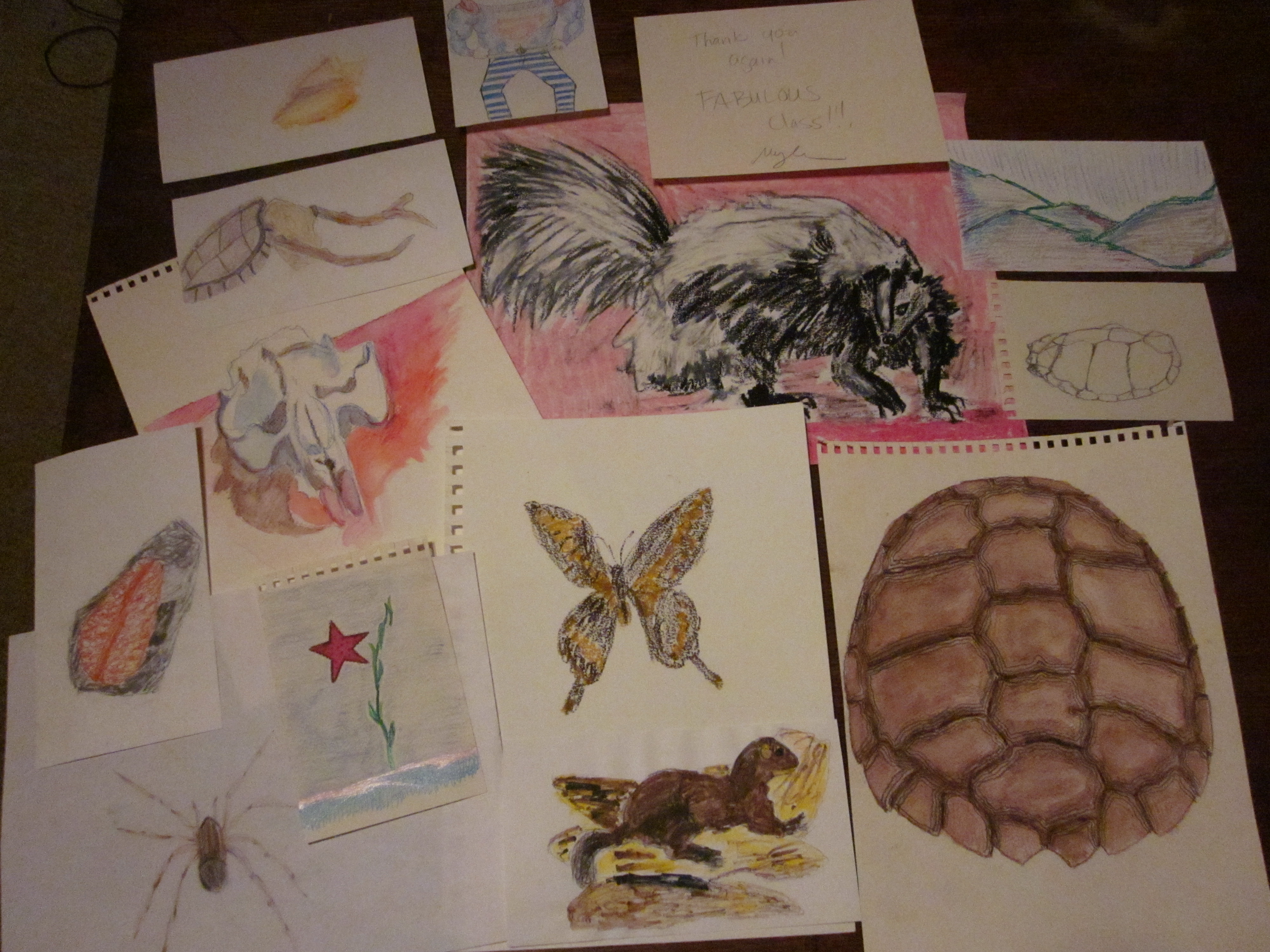 General fees
Schools
Standard teaching rate: 50$/hr in-workshop time
This covers standard prep time, use of my collection of art materials, my natural history teaching collection, and my science equipment (mostly microscopes of various kinds, some other lab equipment). Long and involved prep time and additional or special materials would need to be negotiated. I would let the school know upfront if any proposed plans fell into this category.
Travel over 30 mi from Duxbury reimbursed at 55c/mi or the rate used by the school if they have one.
Nonprofits
For nonprofits, I use a model where we agree on a class per person fee based the organizations existing fee schedule, which usually takes into account member and nonmember rates. I and the nonprofit then split the proceeds of the workshop.