An Update on Emerald Ash Borer in Duxbury
Re-posted from the 2020 Duxbury Land Trust newsletter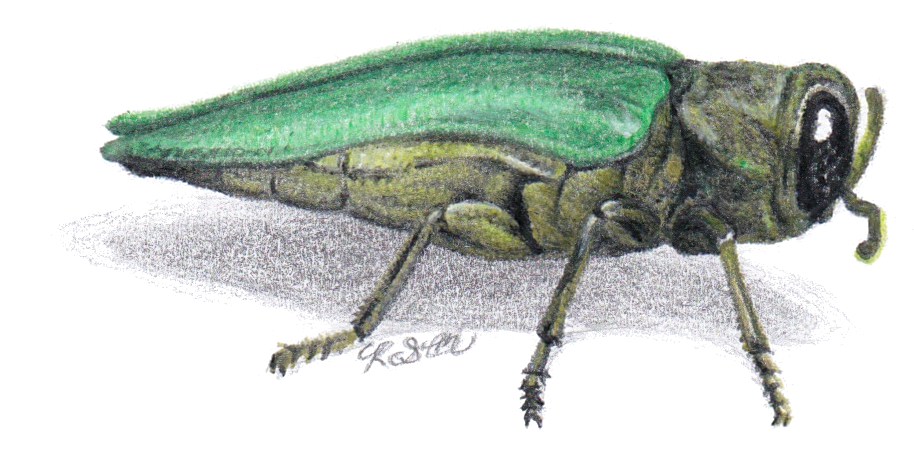 It's shiny! It's cute! It's… the Emerald Ash Borer. Despite their innocuous appearance, the Emerald Ash Borer (affectionately known as EAB) is not a beetle we want taking up residence in Duxbury's forests. If you see signs of EAB, the Vermont Department of Forest, Parks & Recreation wants to know about it.
EAB is originally from east Asia, including northeast China, Korea, and Japan. Spotted in the US in Detroit in 2002, it was first confirmed in Vermont in 2018. While EAB coexists with Asian ash trees, it decimates our North American species: 99.7% of EAB infested American ash will die from the infestation after just one to four years from the initial signs of beetle activity.
The larvae feed beneath the bark of the tree, carving S-shaped tracks and leaving distinctive 1/8-inch D-shaped holes when they bore out as adults after one to two years. The EAB damage is further compounded by increased woodpecker activity as the birds go after the juicy larvae. Infested ash trees will show bark splitting, woodpecker flecking, dead top branches, and leafy offshoots from the lower trunk, in addition to the S-tracks and D-holes made directly by the beetles.
Duxbury falls in an EAB High Risk Area: within five to ten miles of a confirmed infestation. EAB has been found in Starksboro, Buels Gore, Montpelier, Berlin, Middlesex, and Worcester. But there's good some good news for Duxbury! First, 2019 surveys of suspiciously symptomatic ash trees in these towns did not turn up new infested areas. Second, tap tree surveys – where ash trees are stressed to created conditions that attract EAB – in Little River State Park, CC Putnam State Park Trailhead in Waterbury, and Camel's Hump State Park in Starksboro did not turn up EAB signs.
The Vermont Department of Forest, Parks & Recreation is monitoring and managing for EAB. For more information, or if you think you've found signs of EAB, check out https://vtinvasives.org/land/emerald-ash-borer-vermont or email Jon Cherico, Protection Forester, at This email address is being protected from spambots. You need JavaScript enabled to view it..