Salamanders and Citizen Science
Who doesn't love finding salamanders? They may be slimy, but with their cute little faces they could be called charismatic aquafauna. And North Branch Nature Center's Amphibian Road Crossing program gives volunteers the opportunity to get up close and personal with plenty of salamanders and other amphibians, all for a good cause.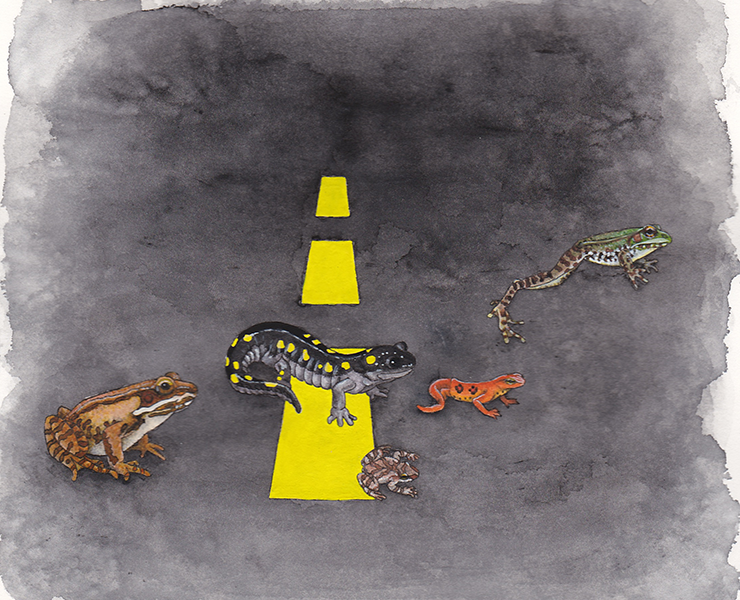 The Amphibian Road Crossing (ARC) program is a citizen science project with two aims: get amphibians safely across Vermont roads during the critical spring migration and collect data at the same time. Every spring during a very brief period – usually the first few wet nights after the ice breaks and temperatures rise above 40F – frogs and salamanders move en masse from wherever they overwintered to vernal pools and wetlands where they will mate and lay eggs. If they are unlucky, they will need to cross a road during this migration, risking mass death by squashing. Sadly, if the crossing mortality is high enough (and it can be upwards of 80% at some sites), entire populations of amphibians can be lost.
My first introduction to ARC was on a rainy April night. Clad in rubber boots and bucket in hand, I traipsed out to meet a neighbor after dark on a section of road that runs between two small wetlands. My neighbor was the official NBNC volunteer contact and came armed with data sheets and stories about moving hundreds of amphibians the previous night. This night was calmer, but we still schlepped upwards of a hundred peepers, frogs, and spotted salamanders to safety across the muddy road.
To learn more about ARC I met Sean Beckett, Staff Naturalist at North Branch Nature Center (NBNC), on an appropriately rainy day in June. He filled me in on the program's history and future directions.
It all started informally about 15 years ago. NBNC would encourage amphibian rescuing activities by holding community workshops on amphibian ecology and safety. They maintained a data entry portal, but it didn't get much attention and when it did, the data was back-of-a-napkin reporting. Until last year, when they decided it was time to push for more, and more rigorous, data collection.
Starting in spring of 2019, NBNC has been formalizing management of the ARC program. They pair a specific volunteer contact with each suspected crossing site, leveraging different volunteer priorities to different kinds of sites: family volunteers want safe and reliable spots for a fun night out with kids, while more adventurous volunteers will investigate new sites in overlooked areas. NBNC has also re-designed the data collection process with data sheets to guide volunteers in submitting standardized data.
In rethinking ARC, NBNC has had to wrestle with some critical questions about managing citizen science. "How do you design a project so people actually give the data you want?" Sean asks me rhetorically. He explains NBNC has put a lot of thought into how to ask for the right balance of effort from volunteers. Data collection must be simple or volunteers will get frustrated and quit, or collect data incorrectly, but must yield meaningful numbers. NBNC has had to consider how to standardize efforts and outputs across diverse sites overseen by diverse volunteers.
Sean tells me they've learned that good management of a citizen science project of this scope takes a lot of time and resources, but NBNC sees the investment as worthwhile. A big part of running any citizen science program is public engagement. They're turning a small army of volunteers into science and nature ambassadors.
Besides public engagement, NBNC has several long-term goals for ARC. "It's more than just saving salamanders," Sean tells me.
Part of the inspiration for the program re-design came from NBNC's recognition that the State of Vermont doesn't currently have a protocol for comparing amphibian road crossing sites. Rigorous data from ARC will guide the creation of a metric that State departments, such as VTrans, can use when dealing with amphibian crossing zones. Such a metric would allow VTrans and others to assess sites based on mortality rates, species diversity, population abundance, and presence of rare species. Armed with ranking and assessment data, the state or local townships can plan road updates to include amphibian crossing patterns. One site in Monckton now has an amphibian-specific underpass.
While it will be a few years before the new and improved ARC has enough data to report real trends, Sean and NBNC have ambitious plans. They've already presented their efforts to the North East Natural History Conference looking for expert advice and advertising for partners. Currently ARC is focused on central Vermont, but they believe their citizen science amphibian conservation model will scale to the rest of northern New England.
Sean emphasizes that today's volunteers are contributing to a bigger amphibian conservation picture: "Everybody who participates is not only saving salamanders but helping to refine a program we see as scaling up across the northeast."